Often, when thinking of a toddler-friendly holiday, it centres around attractions, activities and entertainment – many people choose to visit popular attractions such as CBeebies land or Peppa Pig world, to name two popular UK resorts for young children and their families. However, what if we were to say that a Feather Down farm stay is an idyllic place to bring your toddler for a short break? As a mum of two boys myself (a 4 year old and a nearly 2 year old), holidaying with toddlers is a very real reality!
At Feather Down farms, you aren't just seeing the countryside. You are feeling, smelling, and tasting it, the ultimate sensory experience for any child. Staying in canvas tents, with fresh running water, flushing toilets, comfortable beds, private showers and a fully equipped kitchen; this is UK glamping the Feather Down way.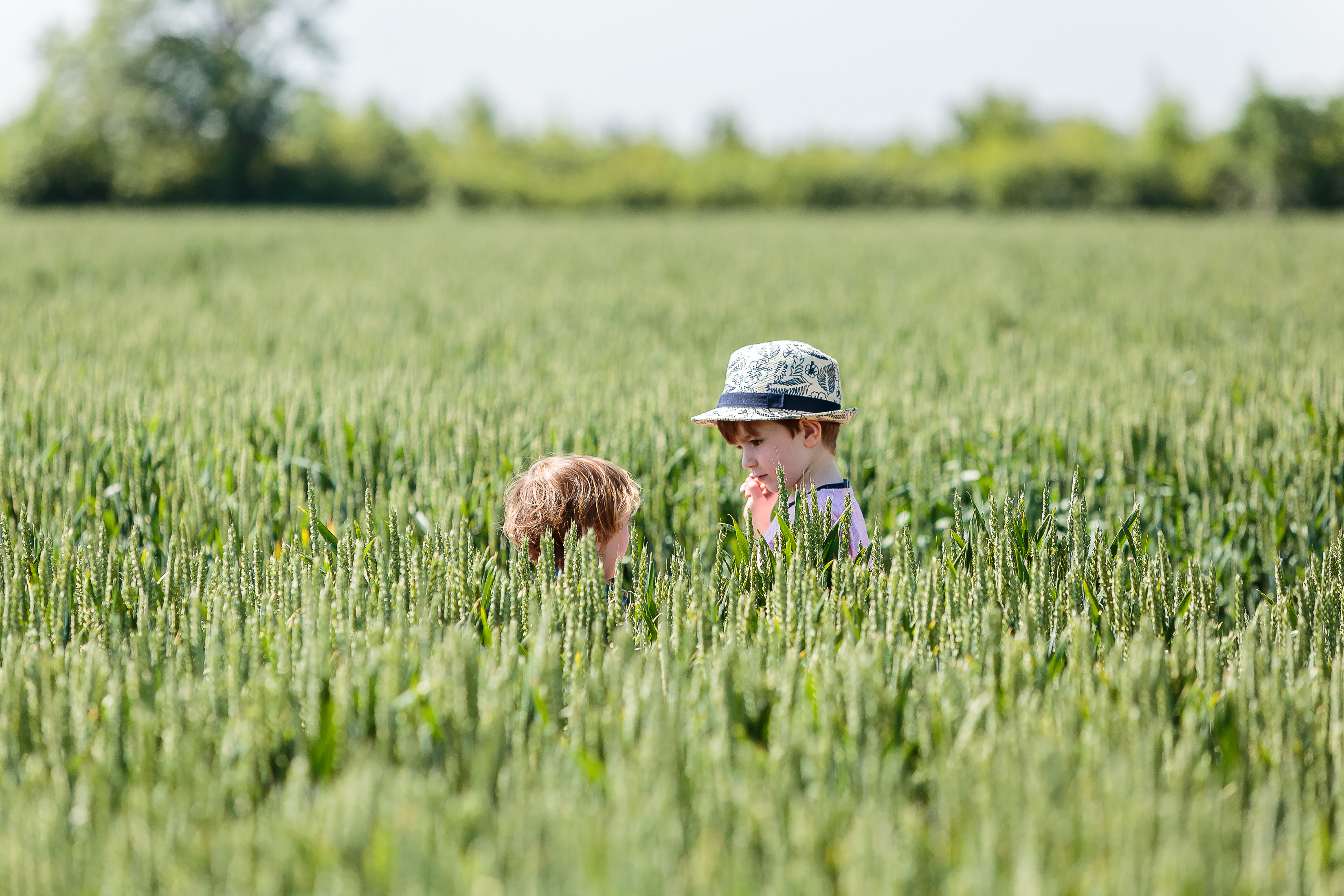 No need to pack the
kitchen sink
When travelling anywhere with toddlers, there's often a long list of things you need to bring from home, including clothes, nappies, games and toys, as well as those bulky items like cots and highchairs. On a Feather Down farm stay, we can provide cots and highchairs in your canvas hideaway so there's no need to bring these with you.
As far as games and toys, they will be kept well entertained at the farms while surrounded by animals, wildlife and nature, they won't need anything else. If they need a break from running around, the honesty shop often has games to borrow or a storybook to read together. A number of farms also have playgrounds or play barns, the perfect way to practise their balance, climbing and coordination.
Fresh air

and the great outdoors

It is well researched and documented that children under 5 should spend at least 3 hours being active a day (NHS) – yes it makes us feel tired thinking about it too! There are so many benefits to young children being outdoors and in nature, including developing gross and fine motor skills, stability, co-ordination and strengthening muscles.

Sunshine is the best source of vitamin D, so by being outside on a glamping holiday they'll dose up on this important nutrient to strengthen their immune system. Even spending some of their time outside makes a difference, so why not do it while on a UK camping holiday.

And do you have a toddler that struggles to sleep? Well guess what – Spending time in the fresh air is linked to better sleep patterns. Exercise can help to burn off extra energy and can make it easier for your child to settle when it's time for bed, hurray!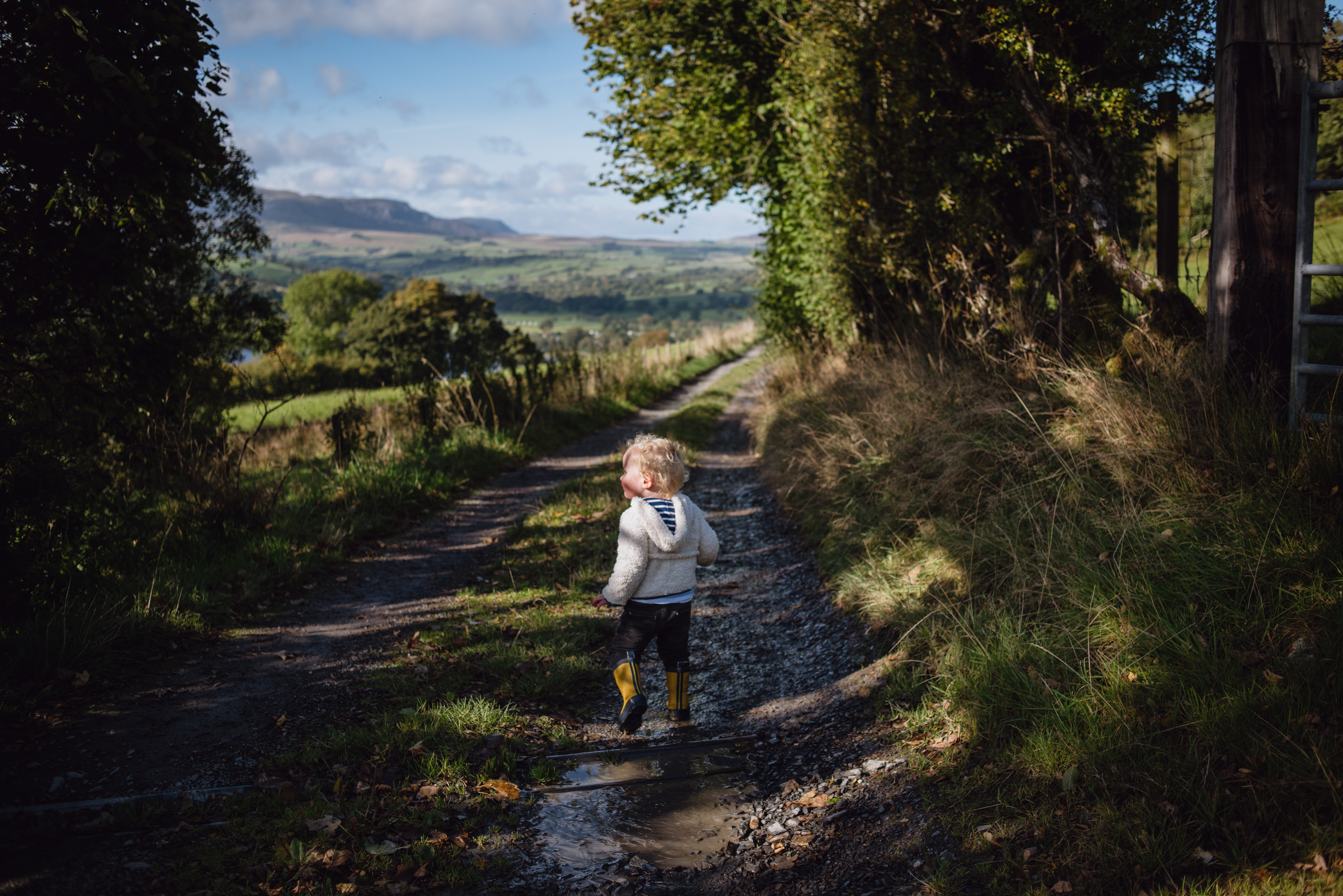 Locations throughout
the UK
Anyone that has had young children knows that spending a long time in a car travelling can be a challenge in itself! There's no need to arrive at your holiday destination frustrated, flustered and fatigued from trying to keep a toddler entertained during a long journey.
With farms all over the UK, there will be a Feather Down farm within 2-3 hours of your home, which is perfect for a short glamping break. Spend the journey talking about the adventures you will have, sing some songs together and of course enjoy a snack. And due to the nature of our farms, the last section of the journey will be filled with views across the countryside, perfect for a game of 'I spy' before you arrive.

Learning

from a young age

Young children's minds are like sponges; did you know a 2-year old has twice as many brain synapse as an adult, which means they can pick up new skills and knowledge much faster than their parents. And with the abundance of opportunities for them to learn on a farm stay, they will be excited to share the new information and knowledge they discover.

From learning the name of a baby cow or mummy pig, to counting sheep in a meadow and finding fresh eggs in the honesty shop to cook for breakfast, it's a huge learning experience for little minds. Alongside this, they can learn about nature and the environment, and our collective responsibility to look after it for years to come, encouraging them to grow into a environmentally-conscious individual.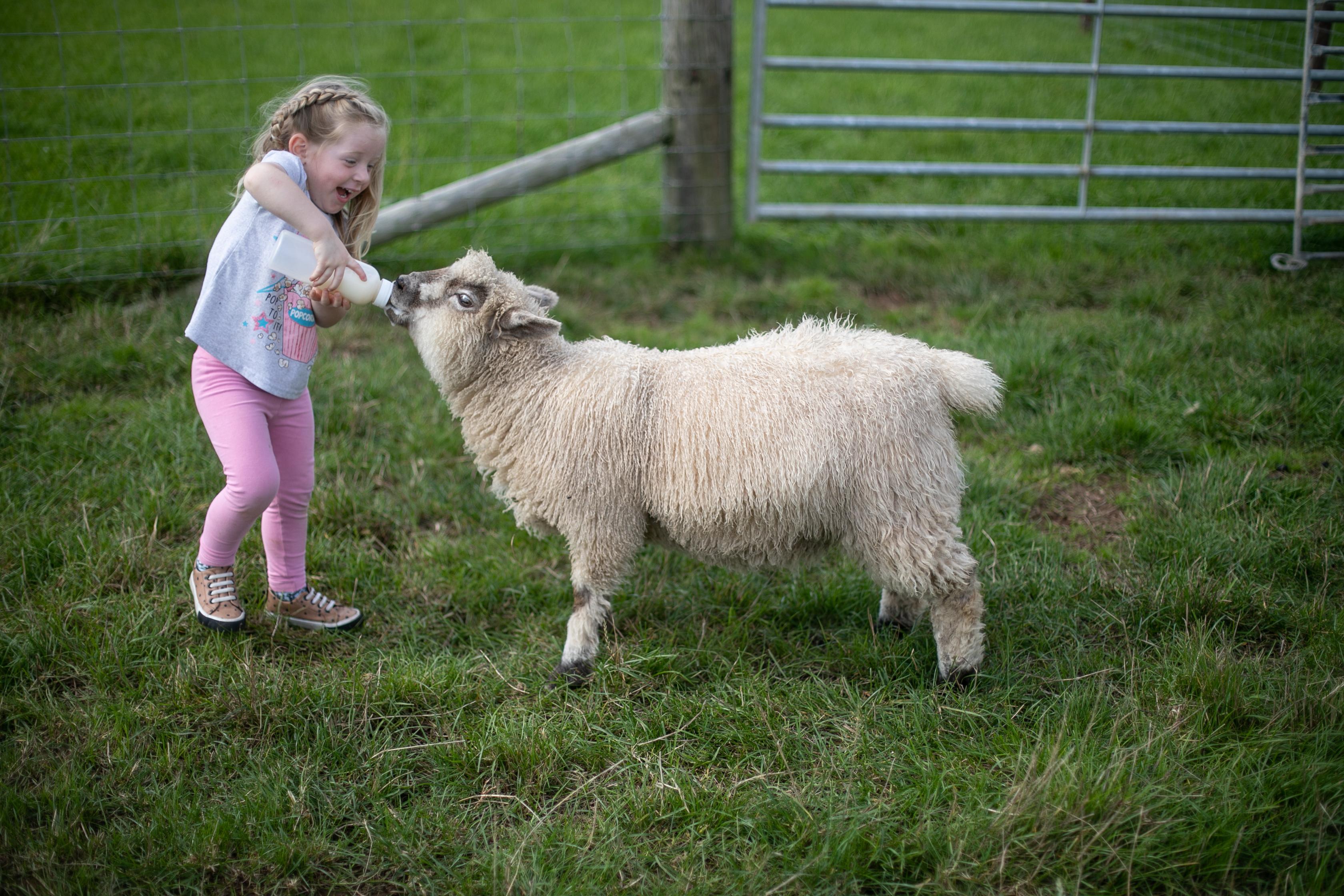 Experiences

they won't find anywhere else


On a Feather Down farm stay, they can have experiences they wouldn't have the opportunity to elsewhere. Why not 'Go on a bear hunt'; tiptoeing through the woods, sploshing through a stream, squelching through the mud and finally resting under the warm duvets in your canvas hideaway.

If you prefer to stay close to your hideaway, you can bottle-feed lambs at a number of our farms or feed the pigs each morning, young children love to hear the snuffling noises of them rooting and rummaging for their grub.

Lighting the candles and lanterns at the end of the day will show them a different way of living compared to flicking a switch, and snuggling together under a blanket on the sofa for a bedtime story will be full of magic and wonder.

No need

for screen time

Instead of watching cartoon dogs save the day, they can watch real dogs exploring the farm or cows grazing on the sweet grass, just like in one of their storybooks.

Instead of connecting to a tablet or television, they can connect with you as their parent or carer over games played at the table or stories read snuggled under a blanket.

Instead of using your mobile to catch up on the latest news, you can talk to and share stories about your day's adventures with your children, reliving those special memories that will last a lifetime.

Instilling a love of nature and the outdoors can set up healthy habits for life, from both a physical and mental health perspective.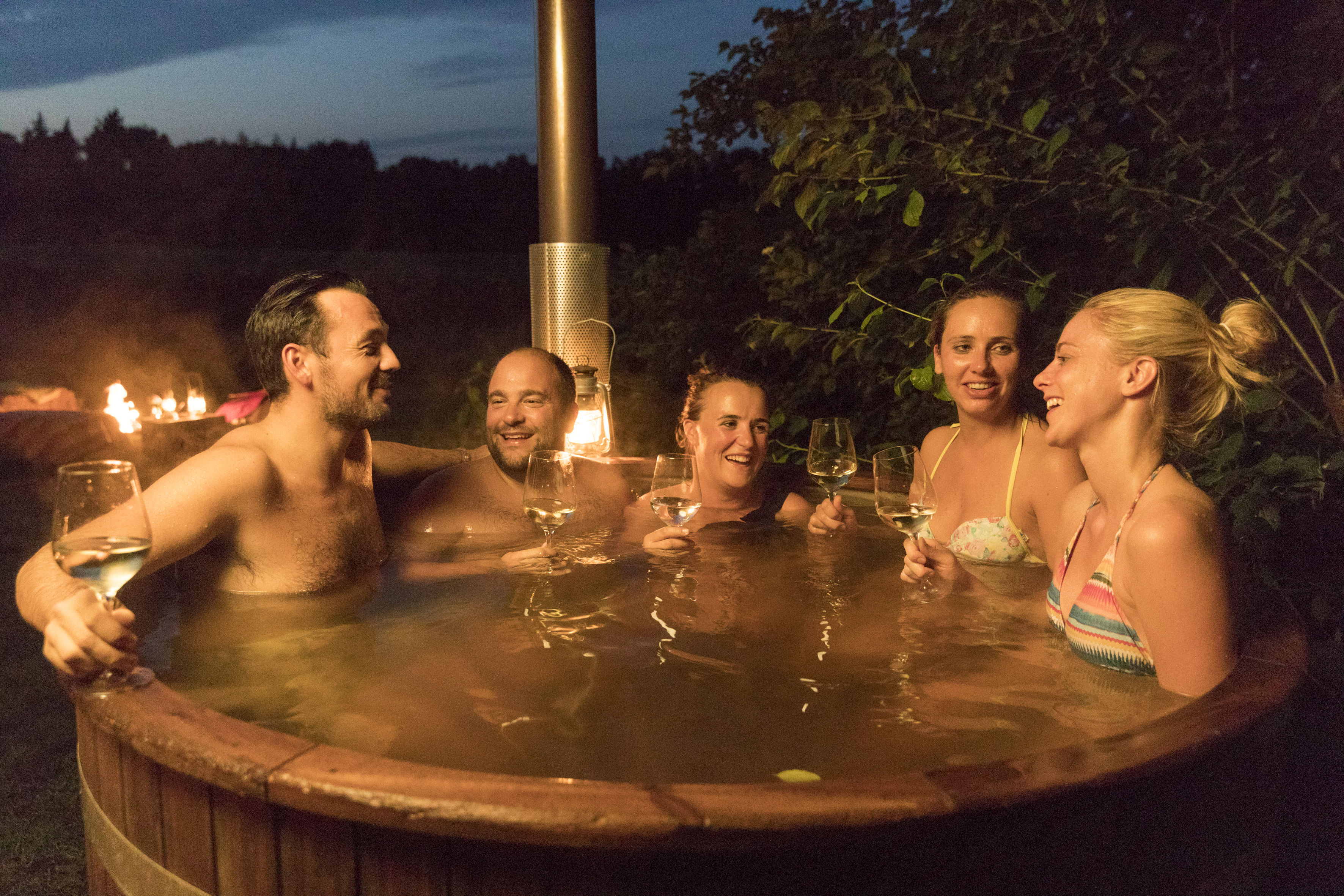 A break for parents

as well

As much as you love your children, sometimes parents need a break too! And we haven't forgotten about providing luxuries for parents during your farm stay at Feather Down.

Imagine the feeling of winding down in a large hot tub, under a cloudless, star-filled sky after a day of exploration and adventure. This is the best nature has to offer and it will all be at your fingertips. Without distractions of housework, phones and other daily habits, you can muse about your dreams and goals, take time to enjoy your favourite book, sip of a chilled glass of wine and spend some treasured time reconnecting with yourself or your partner.
Best prices
With young children, you don't have to be bound by school holidays for your glamping holiday. Enjoy the quieter times at the farm without older children around and have the freedom of letting your little one explore in their own time.
You'll also benefit from our best prices mid-week during the Spring, so make sure you take advantage of a May or June week away at the same price as weekend.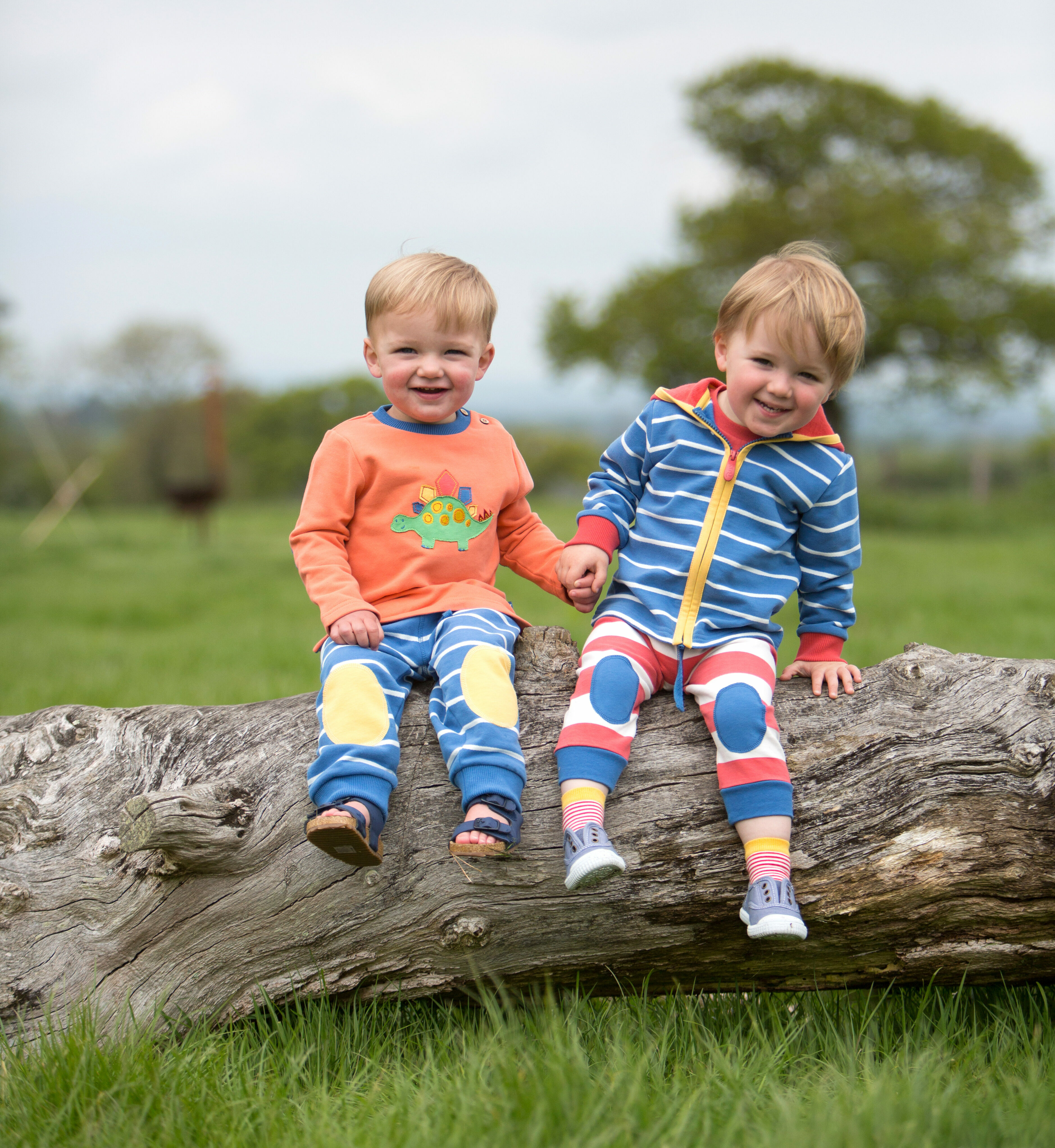 References:
https://www.nhs.uk/start4life/toddler/activities/
https://parents.actionforchildren.org.uk/stages-development/playing-outside/
https://www.edutopia.org/article/why-ages-2-7-matter-so-much-brain-development/
https://www.nct.org.uk/baby-toddler/games-and-play/benefits-outdoor-play-for-children